About Us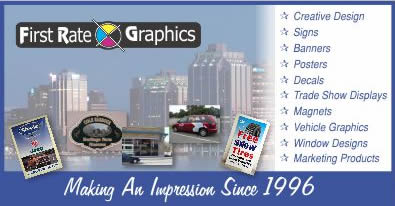 First Rate Graphics opened for business in the summer of 1996, owned and operated by Conrad and Russell Grosse. Our concept then as it is now, was to provide customers with One Stop - Full Service Graphics. This would be accomplished through an excellence in customer service, affordable pricing, high quality products, innovative designs and working to achieve a solution for their visual image needs. First Rate Graphics serves a very broad spectrum of clients. Some clients come to us looking for a creative way to promote their business or service. Others come to us with an idea of their own, which has not yet been done. Our motto is: "Our only limitation is your imagination".
WHY ARE GRAPHICS IMPORTANT ?
"Why are visual graphics important?" is a question often asked by business owners. Graphics are all around us in everything we do. In a highly competitive market effective graphics can be the difference between the success or failure of the business. Visual graphics are the most affordable means of advertising for many businesses, let us show you how.
OFFERING OUR BEST SINCE 1996
Our commitment to quality is enhanced by over ten years experience in the graphics industry. We approach every project with the professionalism our customer's have come to expect.
GIVE US A TRY !
Looking for a new visual image or to spruce or re-new what you already have. Contact us, we would be glad to assist you.